LCL's Carrier Event: Carrier Einstein is Joachim Slabbaert On Thursday 23 May 2013, LCL hosted its Carrier Event in the Van der Valk Hotel in Diegem.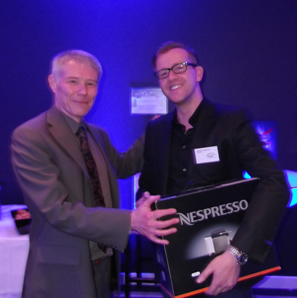 The Carrier Event is fast becoming an annual tradition. This networking event is organised by LCL as a way of showing its appreciation to its carrier clients. The guests were treated to a reception with a 'walking dinner' and a buffet dessert. The keynote speakers were:
Laurens van Reijen, Managing Director at LCL Belgium

Bart van der Sloot, Sales Director Wholesale & Broadcast markets Benelux, Level3

Rudy Willems, Sales Director at Arcadiz Telecom

Marc Destree, CEO at Destiny

Hans Declercq, Regional Sales Director, GT-T
Additional entertainment was provided with the LCL Einstein Riddle, a very tricky conundrum which many a guest failed to solve. Joachim Slabbaert, COO at EDPnet, eventually solved the riddle and took home a very rewarding prize for his efforts.